Jigsaw Table
Way back when, I used to have a floor standing band saw, but it was heavy, huge, and tempermental, and I decided to get rid of it. Since then I have had a need for a stationary band saw. I have a jigsaw, but it is not good for smaller pieces. I decided to make a jigsaw table so I could mount my jigsaw and be able to make some cuts easier.
Mostly using wood I had laying around, I cut the table top, then proceeded to design the system for holding the saw. I wanted to be able to remove or add the saw to the table easily and decided on wingnuts and carraige bolts to hold the clamping system. By simply loosening the wing nuts, I can now simply slide the saw in and out of the table. Here is the table top. All of the screws and bolts are countersunk. The hole in the back fits a 5/8"-11 bolt for securing during transport, if needed. I cut a slot in the tabletop with a router to hold my guide.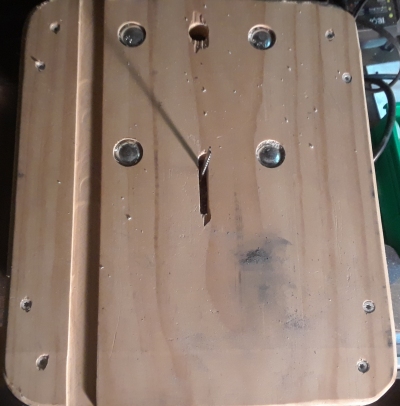 I fashioned the saw clamping system gradually, getting the shape of the wood clamps to match the saw. I used a sample piece of wood with each cut and tried it out before making the cut on the actual clamps. I used a table saw and a router to get the final shape. I also fashioned the clamps with access holes so I could turn the screws on the saw needed to change the blade.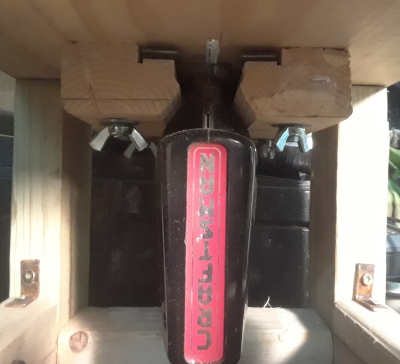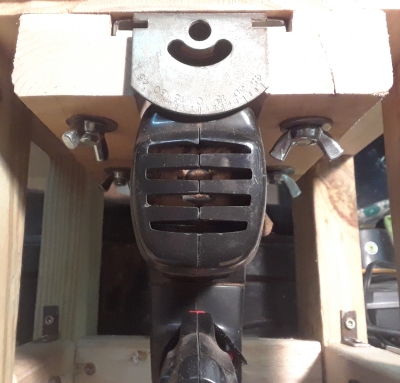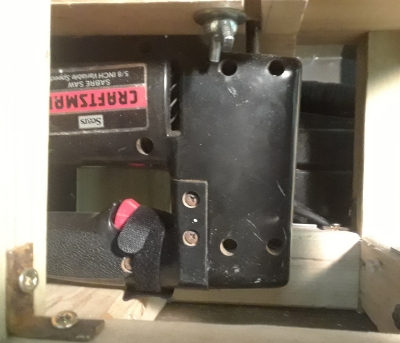 Once I had the table top working to my satisfaction, I built the table support, keeping stability in mind.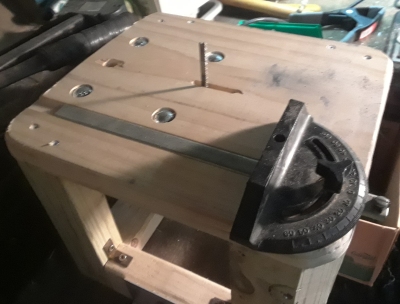 On the first test run, I realized that the saw ran too fast and bounced around somewhat. The trigger on this saw is the variable speed control, and running it as a table saw took this control away. I bought a "router speed control" (really just a limiter) at Harbor Freight. That allowed me to control the speed somewhat, but the lowest was still a little too fast. I ended up using a velcro strap on the trigger to press the trigger about half way and used the speed controller for final adjustment, and to turn the saw on and off. To cure the vibration, I created hold-downs on three sides of the table. These hold downs can be reversed so they are out of the way, or flipped so I can clamp the saw to my workbench.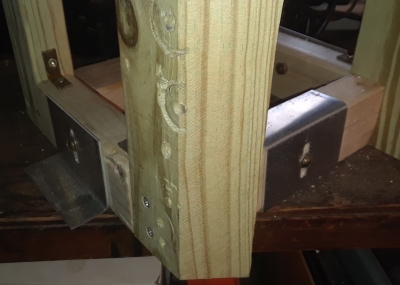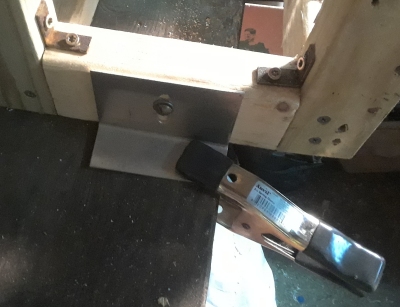 The final result will not take the place of a good band saw or scroll saw, but it is very useful for specific jobs. I was easily able to cut circles for my sanding discs (see Sanding Discs in the Build It section) and a few other projects. It is much more difficult to cut out smaller shapes using a hand-held saw.