Concerts & Memorabilia
Our love of music has led my wife and me to attend many concerts throughout the years. This space is dedicated to the bands who created the music we get so much enjoyment from. I have listed these events in date order as I think it provides more perspective. Not all of the concerts were attended by both of us, especially in the earlier years. Concert shirts are at the bottom of the page.
Note: set lists were taken from www.setlist.fm or other sources and not from my own memory or diligence!
Extra special kudos to those of us who remember the Ticketron envelopes that contained our prizes!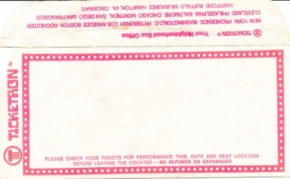 concerts, tickets, programs, misc
The Rolling Stones (opening act: Stevie Wonder)

Jul 21, 1972, Spectrum, Phila, PA

Set Lists:

Stevie Wonder:
For Once in My Life
If You Really Love Me
Superwoman (Where Were You When I Needed You)
You and I (We Can Conquer the World)
What's Going On
My Cherie Amour
Blowin' in the Wind
With a Child's Heart
Love Having You Around
Signed, Sealed, Delivered I'm Yours
Papa Was a Rollin' Stone
Superstition
Maybe Your Baby
Uptight (Everything's Alright)
Rockin' Robin

The Rolling Stones :
Brown Sugar
Bitch
Rocks Off
Gimme Shelter
Happy
Tumbling Dice
Love in Vain
Sweet Virginia
You Can't Always Get What You Want
All Down the Line
Midnight Rambler
Bye Bye Johnny
Rip This Joint
Jumpin' Jack Flash
Street Fighting Man
David Bowie

Feb 19, 1973, Tower Theatre, Upper Darby, PA

Set List:

Hang On to Yourself
Ziggy Stardust
Changes
Moonage Daydream
Panic in Detroit
Five Years
Watch That Man
Aladdin Sane
The Width of a Circle
Space Oddity
Time
Suffragette City
The Jean Genie
Rock 'n' Roll Suicide
Alice Cooper (opening act: Flo & Eddie)

Mar 9, 1973, Spectrum, Philadelphia, PA

Set Lists:

Flo & Eddie:
(setlist assumed)
Goodbye Surprise
If Only We Had the Time
It Never Happened
Afterglow of Your Love
Feel Older Now
Nikki Hoi
Elenore
I Been Born Again
Happy Together
Boogie

Alice Cooper:
Hello Hooray
Billion Dollar Babies
Elected
I'm Eighteen
Raped and Freezin'
No More Mr. Nice Guy
My Stars
Unfinished Sweet
Night on Bald Mountain
Sick Things
Dead Babies
I Love the Dead
School's Out
Encore:
Under My Wheels
God Bless America
Frank Zappa

Apr 28, 1973, Spectrum, Phila, PA

Set List:

RDNZL
Exercise #4
The Dog Breath Variations
Uncle Meat
Fifty-Fifty
Don't Eat the Yellow Snow
Nanook Rubs It
Montana
Improvisation
Dupree's Paradise
Inca Roads
Father O'Blivion
Don't You Ever Wash That Thing?
Mr. Green Genes
King Kong
Chunga's Revenge
Emerson, Lake & Palmer

Dec 11, 1973, Spectrum, Phila, PA

Set List:

Hoedown
Jerusalem
Toccata
Tarkus
Benny the Bouncer
Take a Pebble
Still… You Turn Me On
Lucky Man
Piano Improvisation
Karn Evil 9
Encore:
Pictures at an Exhibition
Deep Purple
Mar 15, 1974, Spectrum, Phila, PA

Set List:

Burn
Might Just Take Your Life
Lay Down, Stay Down
Mistreated
Smoke on the Water
You Fool No One
Space Truckin'

Mott the Hoople (opening Act: REO Speedwagon)

Jun 1, 1974, Shubert Theater, Phila, PA

Set Lists:

REO Speedwagon:

Mott the Hoople:
American Pie / The Golden Age of Rock 'N' Roll
Sucker
Roll Away the Stone / Sweet Jane
Lounge Lizard
Rest in Peace
Born Late '58
One of the Boys
Hymn for the Dudes
Marionette
Drivin' Sister / Crash Street Kidds / Violence / Crash Street Kidds reprise
All the Young Dudes
Walking With a Mountain / Rock and Roll Queen
Frank Zappa

Nov 17, 1974, Spectrum, Phila, PA

Set List:

Tush Tush Tush
Stink Foot
RDNZL
Village of the Sun
Echidna's Arf (Of You)
Don't You Ever Wash That Thing?
Penguin in Bondage
T'Mershi Duween
The Dog Breath Variations
Uncle Meat
Building a Girl
Dinah-Moe Humm
Camarillo Brillo
Oh No
Son of Orange County
Trouble Every Day
Babbette
Approximate
Montana
Don't Eat the Yellow Snow
Nanook Rubs It
St. Alfonzo's Pancake Breakfast
Father O'Blivion
Pygmy Twylyte
Dummy Up
Room Service
Tush Tush Tush
Genesis

Dec 5, 1974, Convention Hall, Phila, PA

Set List:

The Lamb Lies Down on Broadway
Fly on a Windshield
Broadway Melody of 1974
Cuckoo Cocoon
In the Cage
The Grand Parade of Lifeless Packaging
Back in N.Y.C.
Hairless Heart
Counting Out Time
The Carpet Crawlers
The Chamber of 32 Doors
Lilywhite Lilith
The Waiting Room
Anyway
Here Comes the Supernatural Anaesthetist
The Lamia
Silent Sorrow in Empty Boats
The Colony of Slippermen
Ravine
The Light Dies Down on Broadway
Riding the Scree
In the Rapids
It
Encore:
The Musical Box
Jethro Tull

March 6, 1975, Spectrum, Phila, PA

Set List:

Wind-Up (guitar intro from 'Minstrel in the Gallery')
Critique Oblique ('A Passion Play' excerpt)
Thick as a Brick (excerpt)
Wond'ring Aloud
My God (with flute solo - includes fragments from "God Rest Ye Merry Gentlemen", "Bouree", "Living in the Past", "Thick as a Brick", "Pop Goes the Weasel")
Sealion
Skating Away on the Thin Ice of the New Day
Ladies
Drum Solo
War Child
War Child Suite
Queen and Country
Cross-Eyed Mary
Bungle in the Jungle
Aqualung
Guitar Solo (with parts from 'Minstrel in the Gallery')
Back-Door Angels
Locomotive Breath
Hard-Headed English General (unreleased, a work-in-progress tour song)
Back-Door Angels (reprise)
Frank Zappa

Nov 3, 1975, Spectrum, Phila, PA

Set List:

Stink-Foot
Dirty Love
How Could I Be Such a Fool?
I Ain't Got No Heart
I'm Not Satisfied
Black Napkins
Advance Romance
Honey, Don't You Want a Man Like Me?
The Illinois Enema Bandit
Carolina Hard-Core Ecstasy
Lonely Little Girl
Take Your Clothes Off When You Dance
What's the Ugliest Part of Your Body?
Chunga's Revenge / five-five-FIVE
Zoot Allures
Camarillo Brillo
Muffin Man
Any Downers?
San Ber'dino
Genesis

Apr 7, 1976, Tower Theatre, Upper Darby, PA

Set List:

Dance on a Volcano
Lamb Stew
The Lamb Lies Down on Broadway
Fly on a Windshield
Broadway Melody of 1974
The Carpet Crawlers
The Cinema Show
Robbery, Assault and Battery
White Mountain
Firth of Fifth
Entangled
Squonk
Supper's Ready
Encore:
I Know What I Like (In Your Wardrobe)
Los Endos
Lynyrd Skynyrd (opening act: The Outlaws)

Apr 16, 1976, Spectrum, Phila, PA

Set Lists:

The Outlaws:
Stick Around for Rock and Roll
Lover Boy
Freeborn Man
There Goes Another Love Song
Green Grass & High Tides

Lynyrd Skynyrd:
Double Trouble
I Ain't the One
Saturday Night Special
Gimme Back My Bullets
The Needle and the Spoon
Cry for the Bad Man
I Got the Same Old Blues
Searching
Gimme Three Steps
Call Me the Breeze
Blue Yodel No. 1 (T for Texas)
Sweet Home Alabama
Free Bird
Paul McCartney and Wings

May 12, 1976, Spectrum, Phila, PA

Set List:

Venus and Mars
Rock Show
Jet
Let Me Roll It
Spirits of Ancient Egypt
Medicine Jar
Maybe I'm Amazed
Call Me Back Again
Lady Madonna
The Long and Winding Road
Live and Let Die
Picasso's Last Words (Drink to Me)
Richard Cory
Bluebird
I've Just Seen a Face
Blackbird
Yesterday
You Gave Me the Answer
Magneto and Titanium Man
My Love
Listen to What the Man Said
Let 'Em In
Time to Hide
Silly Love Songs
Beware My Love
Letting Go
Band on the Run
Hi, Hi, Hi
Soily
Gentle Giant (opening act: Starcastle)

Jun 17, 1976, Tower Theatre, Upper Darby, PA

Set Lists:

Starcastle:

Gentle Giant:
Intro/Just the Same
Proclamation/Valedictory
Interview
On Reflection
The Runaway/Experience
So Sincere
Excerpts from Octopus
Give It Back
Timing
Free Hand
Peel the Paint/I Lost My Head
Frank Zappa

Oct 29, 1976, Spectrum, Phila, PA

Set List:

The Purple Lagoon
Stink Foot
The Poodle Lecture
Dirty Love
Wind Up Workin' in a Gas Station
Tryin' to Grow a Chin
The Torture Never Stops
City of Tiny Lites (includes "The Sanzini Brothers Pyramid Trick")
You Didn't Try to Call Me
Manx Needs Women
Titties 'n Beer
Black Napkins
Advance Romance
Honey, Don't You Want a Man Like Me?
Rudy Wants to Buy Yez a Drink
Would You Go All the Way?
Daddy, Daddy, Daddy
What Kind of Girl Do You Think We Are?
Dinah-Moe Humm
Stranded in the Jungle (The Jayhawks cover)
Find Her Finer
Camarillo Brillo
Muffin Man
The Purple Lagoon
Emerson, Lake & Palmer

Jun 20, 1977, Spectrum, Phila, PA

Set List:

Karn Evil 9 (1st Impression Part 2)
Hoedown
Tarkus
Take a Pebble
Still… You Turn Me On
C'est la vie
Lucky Man
Nutrocker
Pirates
Fanfare for the Common Man
Blue Rondo à la Turk
Queen (opening act: Thin Lizzy)

Feb 11, 1977, Convention Hall, Phila, PA

Set Lists:

Thin Lizzy:

Queen:
Tie Your Mother Down
Ogre Battle
White Queen (As It Began)
Somebody to Love
Killer Queen
The Millionaire Waltz
You're My Best Friend
Bring Back That Leroy Brown
Sweet Lady
Brighton Rock
'39
You Take My Breath Away
White Man
The Prophet's Song
Bohemian Rhapsody
Stone Cold Crazy
Keep Yourself Alive
Liar
In the Lap of the Gods... Revisited
Encore:
Now I'm Here
Big Spender
Jailhouse Rock
God Save the Queen
Yes
Aug 3, 1977, Spectrum, Phila, PA

Set List:

The Firebird Suite
Parallels
I've Seen All Good People
Close to the Edge
Wonderous Stories
Colours of the Rainbow (Dusty Springfield cover)
Turn of the Century
And You and I
Going for the One
Flight Jam (Jon Anderson song)
Awaken
Starship Trooper
Roundabout
Thin Lizzy (opening act: Savoy Brown)

Sep 8, 1978, Tower Theatre, Upper Darby, PA

Set Lists:

Savoy Brown:

Thin Lizzy:
Jailbreak
Bad Reputation
Emerald
Warriors
Southbound
Waiting for an Alibi
Dancing in the Moonlight (It's Caught Me in Its Spotlight)
Massacre
Still in Love With You
Johnny the Fox Meets Jimmy the Weed
Cowboy Song
The Boys Are Back in Town
Don't Believe a Word
Are You Ready
Encore:
Baby Drives Me Crazy
Suicide
Jethro Tull (opening act: Uriah Heep)

Oct 4, 1978, Spectrum, Phila, PA

Set Lists:

Uriah Heep:
Falling in Love
Woman of the Night
Stealin'
Look at Yourself
July Morning
One More Night (Last Farewell)
Who Needs Me
Easy Livin'
Sweet Lorraine

Jethro Tull:
No Lullaby
Sweet Dream
One Brown Mouse
Heavy Horses
My God
One White Duck
Songs from the Wood
Thick as a Brick
Too Old to Rock 'n' Roll, Too Young to Die!
Conundrum
Cross-Eyed Mary
Pop Goes The Weasel
Locomotive Breath
Quatrain
Aqualung
The Dambusters March
Frank Zappa

Apr 29, 1980, Tower Theatre, Upper Darby, PA

Set List:

Easy Meat
Mudd Club
The Meek Shall Inherit Nothing
Heavenly Bank Account
Suicide Chump
Jumbo Go Away
If Only She Woulda
I Don't Wanna Get Drafted
Teen-Age Wind
Harder Than Your Husband
I'm a Beautiful Guy
Beauty Knows No Pain
Charlie's Enormous Mouth
Any Downers?
Cosmik Debris
You Didn't Try to Call Me
I Ain't Got No Heart
Joe's Garage
Why Does It Hurt When I Pee?
Dancin' Fool
Bobby Brown
Black Napkins
Don't Eat the Yellow Snow
The Illinois Enema Bandit
Genesis

Nov 11, 1981, Spectrum, Phila, PA

Set List:

Behind the Lines
Duchess
The Lamb Lies Down on Broadway
Dodo/Lurker
Abacab
The Carpet Crawlers
Me and Sarah Jane
Misunderstanding
No Reply at All
Firth of Fifth
Misunderstanding
Who Dunnit?
Man on the Corner
In The Cage Medley
In the Cage
The Cinema Show
The Colony of Slippermen
Afterglow
Turn It On Again
Dance on a Volcano
Drum Duet
Los Endos
Encore:
I Know What I Like (In Your Wardrobe)
Frank Zappa

Nov 10, 1984, Tower Theatre, Upper Darby, PA

Set List: (Late Show)

Black Napkins
Advance Romance
Bamboozled by Love
Cocaine Decisions
Nig Biz
Outside Now
Teen-Age Wind
Truck Driver Divorce
He's So Gay
Bobby Brown
Keep It Greasey
King Kong
Trouble Every Day
Penguin in Bondage
Hot Plate Heaven at the Green Hotel
Let's Move to Cleveland
Encore:
Dinah-Moe Humm
Tinsel Town Rebellion
Sharleena (with "Inca Roads" snippet)
Whipping Post (The Allman Brothers Band cover)
Live Aid

Jul 13, 1985, JFK Stadium, Phila, PA

full list of performers and setlists here:

or (external link with linked details) here:

concert program

Genesis

Sep 25, 1986, Spectrum, Phila, PA

Set List:

Mama
Abacab
Land of Confusion
That's All
Domino
In Too Deep
The Brazilian
Follow You Follow Me
Tonight, Tonight, Tonight
Home by the Sea
Second Home by the Sea
Throwing It All Away
Cage Medley
In the Cage
...In That Quiet Earth
Supper's Ready
Invisible Touch
Drum Duet
Los Endos
Encore:
Turn It On Again (medley)
Genesis

May 28, 1987, Veteran's Stadium, Phila, PA

Set List:

Mama
Abacab
Domino
That's All
The Brazilian
Cage Medley
In the Cage
...In That Quiet Earth
Afterglow
Land of Confusion
Tonight, Tonight, Tonight
Throwing It All Away
Home by the Sea
Second Home by the Sea
Invisible Touch
Drum Duet
Los Endos
Encore:
Turn It On Again (medley)
Pink Floyd

Sep 19, 1987, JFK Stadium, Phila, PA

Set List:

Set 1:
Echoes
Signs of Life
Learning to Fly
Yet Another Movie
Round and Around
A New Machine (Part 1)
Terminal Frost
A New Machine (Part 2)
Sorrow
The Dogs of War
On the Turning Away
Set 2:
One of These Days
Time
On the Run
Wish You Were Here
Welcome to the Machine
Us and Them
Money
Another Brick in the Wall Part 2
Comfortably Numb
Encore:
Run Like Hell
Shine On You Crazy Diamond (Parts I-V)

concert program

Heart (opening act: Bourgeois Tagg)

Oct 25, 1987, Spectrum, Phila, PA

Set Lists:

Bourgeois Tagg:
I Don't Mind at All
Cry Like a Baby
Tomorrow Never Knows (Beatles cover)

Heart:
Bad Animals
The Wolf
Barracuda
Nothin' at All
What About Love
Dreamboat Annie
These Dreams
Straight On
Even It Up
I Want You So Bad
Wait for an Answer
Who Will You Run To
Never
How Can I Refuse
Crazy on You
If Looks Could Kill
Encore:
Bebe Le Strange
Magic Man
Alone
Rock and Roll (Led Zeppelin cover)

concert program

Jethro Tull

Nov 24, 1987, Tower Theatre, Upper Darby, PA

Set List:

Songs From the Wood
Thick as a Brick (excerpt)
Steel Monkey
Farm on the Freeway
Heavy Horses
Living in the Past
Serenade to a Cuckoo
Budapest
Instrumental (with 'The Waking Edge' snippet)
Wond'ring Aloud
Skating Away on the Thin Ice of the New Day
Jump Start
Too Old to Rock 'n' Roll, Too Young to Die
Aqualung
Locomotive Breath
Thick as a Brick (reprise)
Wind-Up

concert program

Whitesnake (opening act: Great White)

Feb 5, 1988, Spectrum, Phila, PA

Set Lists:

Great White:

Whitesnake:
Bad Boys / Children of the Night
Bad Boys
Slide It In
Slow an' Easy
Here I Go Again
Guilty of Love
Is This Love
Love Ain't No Stranger
Guitar Solo
Crying in the Rain (Incl. Drum Solo)
Still of the Night
Give Me All Your Love
Encore:
Tush (ZZ Top cover)
Frank Zappa

Feb 12, 1988, Tower Theatre, Upper Darby, PA

Set List:

Set 1:
Black Page #2
Dickie's Such an Asshole
When the Lie's So Big
Planet of the Baritone Women
Any Kind of Pain
Jesus Thinks You're a Jerk
What's New in Baltimore?
Trouble Every Day
Penguin in Bondage
Hot Plate Heaven at the Green Hotel
Set 2:
Who Needs the Peace Corps? / I Left My Heart In San Fransico
City of Tiny Lites
Pound for a Brown
Lucille Has Messed My Mind Up
Bamboozled by Love
Let's Make The Water Turn Black / Harry, You're a Beast / The Orange County Lumber Truck / Oh No / Theme from Lumpy Gravy
Encore:
Uncle Remus
Catholic Girls
Crew Slut
Encore 2:
Bobby Brown
Stairway to Heaven (Led Zeppelin cover)
Sofa

concert program
Pink Floyd

May 15, 1988, Veteran's Stadium, Phila, PA

Set List:

Set 1:
Shine On You Crazy Diamond (Parts I-V)
Signs of Life
Learning to Fly
Yet Another Movie
Round and Around
A New Machine (Part 1)
Terminal Frost
A New Machine (Part 2)
Sorrow
The Dogs of War
On the Turning Away

Set 2:
One of These Days
Time
On the Run
The Great Gig in the Sky
Wish You Were Here
Welcome to the Machine
Us and Them
Money
Another Brick in the Wall Part 2
Comfortably Numb
Encore:
One Slip
Run Like Hell
Aerosmith (opening act: Guns N' Roses)

Aug 5, 1988, Spectrum, Phila, PA

Set List:

Guns 'N Roses:
It's So Easy
Mr. Brownstone
Out Ta Get Me
Patience
Slash Guitar Solo
Sweet Child O' Mine
Welcome to the Jungle
Used to Love Her

Aerosmith:
Rats in the Cellar
Same Old Song and Dance
Heart's Done Time
Rag Doll
Hangman Jury
Permanent Vacation
Angel
Back in the Saddle
Last Child
Lord of the Thighs
Draw the Line
Walkin' the Dog
Dream On
Walk This Way
Sweet Emotion
Encore:
I'm Down
Electric Factory 20th Anniversary Dance Party

Sep 14, 1988, Spectrum, Phila, PA

Performers:

The Philadelphia All-Stars
Tommy Conwell & The Young Rumblers
Chambers Brothers
Dave Mason
Spirit
Spencer Davis Group
Iron Butterfly
Human Rights Now Tour

Sep 19, 1988, JFK Stadium, Phila, PA

Performers:

Joan Baez
Tracy Chapman
Youssou N'Dour
Sting
Peter Gabriel
Bruce Springsteen
Pat Benatar

Nov 11, 1988, Tower Theatre, Upper Darby, PA

Set List:

We Live for Love
Fire and Ice
Love Is a Battlefield
We Belong
Cool Zero
Outlaw Blues
Invincible
Heartbreaker
Promises in the Dark
All Fired Up
Shadows of the Night
One Love
Let's Stay Together
Kansas

Feb 11, 1989, Tower Theatre, Upper Darby, PA

Set List:

Howling at the Moon
One Big Sky
Paradox
Point of Know Return
The Wall
All I Wanted
Dust in the Wind
Miracles Out of Nowhere
The Preacher
Play the Game Tonight
Carry On Wayward Son
Born to Be Wild
Portrait (He Knew)
Down the Road

backstage pass


band autographs



concert program

The Who

Jul 10, 1989, Veteran's Stadium, Phila, PA

Set List:

Set 1:
Overture
It's a Boy
1921
Amazing Journey
Sparks
The Acid Queen
Pinball Wizard
Do You Think It's Alright?
Fiddle About
I'm Free
Tommy's Holiday Camp
We're Not Gonna Take It
I'm One
Secondhand Love (Pete Townshend song)
All Shall Be Well (Pete Townshend song)
Face the Face (Pete Townshend song)
I'm a Man
I Can't Explain
Substitute
I Can See for Miles
Trick of the Light
Boris the Spider
Who Are You
Set 2:
Too Much of Anything
Magic Bus
Baba O'Riley
My Generation
A Little Is Enough (Pete Townshend song)
5:15
Love, Reign O'er Me
Love Hurts
My Wife
Sister Disco
Rough Boys (Pete Townshend song)
Join Together
You Better You Bet
Behind Blue Eyes
Won't Get Fooled Again

concert program

David Bowie

Jul 13, 1990, Spectrum, Phila, PA

Set List:

Space Oddity
Fashion
Rebel Rebel
Ashes to Ashes
Life on Mars?
Pretty Pink Rose
Stay
Blue Jean
Let's Dance
Sound and Vision
Ziggy Stardust
China Girl
Queen Bitch (intro only)
White Light/White Heat
Young Americans
Suffragette City
Fame
Heroes
Encore:
Modern Love
Rock 'n' Roll Suicide

concert program


picture book

Eric Clapton

Aug 14, 1990, Spectrum, Phila, PA

Set List:

Pretending
No Alibis
Running on Faith
I Shot the Sheriff
White Room
Can't Find My Way Home
Bad Love
Before You Accuse Me
Old Love
Badge
Wonderful Tonight
Cocaine
Layla
Cross Road Blues
Sunshine of Your Love

concert program

ZZ Top (opening act: The Black Crowes)
Mar 11, 1991, Spectrum, Phila, PA

Set Lists:

The Black Crowes:
Twice as Hard
Stare It Cold
Shake 'Em On Down / Get Back / Thank You (Falletinme Be Mice Elf Again)
She Talks to Angels
Hard to Handle
Thorn in My Pride
Jealous Again


ZZ Top:
Planet of Women
Sleeping Bag
Tell It
Waitin' for the Bus
Jesus Just Left Chicago
Ten Foot Pole
Gimme All Your Lovin'
Concrete and Steel
My Head's in Mississippi
Manic Mechanic
Heard It on the X
2000 Blues
Blue Jean Blues
Just Got Paid
Lovething
Got Me Under Pressure
Sharp Dressed Man
Give It Up
Legs
Encore:
Tube Snake Boogie
La Grange
Tush

concert program

George Thorogood and the Delaware Destroyers (opening act: Tommy Conwell and the Young Rumblers)

Apr 6, 1991, Spectrum, Phila, PA

Set Lists:

Tommy Conwell and the Young Rumblers:

George Thorogood and the Delaware Destroyers:
Scorpions

Apr 24, 1991, Spectrum, Phila, PA

Set List:
(setlist assumed)

Tease Me Please Me
Lust or Love
Bad Boys Running Wild
Make It Real
Hit Between the Eyes
The Zoo
Wind of Change
I Can't Explain (The Who cover)
Don't Believe Her
Rhythm of Love
Coast to Coast
Can't Live Without You
Blackout
Dynamite
Holiday
Big City Nights
No One Like You
Rock You Like a Hurricane

concert program

Spyro Gyra

Aug 9, 1991, Keswick Theater, Glenside, PA

Set List:
Procol Harum (opening act: Annie Haslam)

Sep 28, 1991, Tower Theatre, Upper Darby, PA

Set Lists:

Annie Haslam:
Running Hard
The Angels Cry
Moonlight Shadow
Lost in Love
Carpet of the Sun
Mother Russia
A New Life
When a Heart Finds Another
Wishin' on a Star
Ashes Are Burning

Procol Harum:
The King of Hearts
Play Video
The Hand That Rocks the Cradle
Play Video
Conquistador
Play Video
A Salty Dog
Play Video
Simple Sister
Play Video
Nothing but the Truth
Play Video
Salad Days (Are Here Again)
Play Video
A Whiter Shade of Pale
Genesis

May 31, 1992, Veteran's Stadium, Phila, PA

Set List:

Land of Confusion
No Son of Mine
Driving the Last Spike
Old Medley
Dance on a Volcano
The Lamb Lies Down on Broadway
The Musical Box (closing section)
Firth of Fifth
I Know What I Like (In Your Wardrobe)
(with snippets of "That's All",… more )
Stagnation
Throwing It All Away
Fading Lights
Jesus He Knows Me
Home by the Sea
Second Home by the Sea
Hold on My Heart
Domino
Drum Duet
I Can't Dance
Encore:
Tonight, Tonight, Tonight
Invisible Touch

concert program

Emerson, Lake & Palmer

Jul 24, 1992, Mann Music Center, Phila, PA

Set List:

Karn Evil 9: 1st Impression, Part 2
Tarkus
Knife-Edge
Paper Blood
Black Moon
Creole Dance
Close to Home
From the Beginning
Affairs of the Heart
Romeo and Juliet
Farewell to Arms
Lucky Man
Pictures at an Exhibition
Encore:
Fanfare for the Common Man
Blue Rondo à la Turk

concert program

Peter Gabriel

Jul 6, 1993, Spectrum, Phila, PA

Set List:

Come Talk to Me
Quiet Steam
Steam
Games Without Frontiers
Across the River
Slow Marimbas
Shakin' the Tree
Blood of Eden
San Jacinto
Lovetown
Kiss That Frog
Washing of the Water
Solsbury Hill
Digging in the Dirt
Sledgehammer
Secret World
Encore:
In Your Eyes
Biko
Little Feat - River Blues Festival

May 22, 1994, Penn's Landing, Phila, PA

Set List:

That's Her, She's Mine
Shake Me Up
Spanish Moon
Skin It Back
That's a Pretty Good Love
Hate to Lose Your Lovin'
Sailin' Shoes
Fools in Love
Texas Twister
Dixie Chicken
Oh Atlanta
Let It Roll
Encore:
Willin'
I Can't Be Satisfied
They're Red Hot
Rad Gumbo
Feats Don't Fail Me Now
Pink Floyd

Jun 2, 1994, Veteran's Stadium, Phila, PA

Set List:

Set 1:
Astronomy Domine
Learning to Fly
What Do You Want From Me
On the Turning Away
Take It Back
Poles Apart
Sorrow
Keep Talking
One of These Days

Set 2:
Shine On You Crazy Diamond (Parts I-V)
Breathe
Time
Breathe (Reprise)
High Hopes
The Great Gig in the Sky
Wish You Were Here
Us and Them
Money
Another Brick in the Wall Part 2
Comfortably Numb
Encore:
Hey You
Run Like Hell

Pink Floyd foil poster


concert program


Pink Floyd seat cushion

Spyro Gyra

Aug 5, 1994, Keswick Theater, Glenside, PA

Set List:
King Crimson (opening act: California Guitar Trio)

Jun 1, 1995, Tower Theatre, Upper Darby, PA

Set Lists:

California guitar Trio:

King Crimson:
VROOOM
Coda: Marine 475
Frame by Frame
Dinosaur
One Time
Red
Soundscape
B'Boom
THRAK
Matte Kudasai
Sex Sleep Eat Drink Dream
People
VROOOM VROOOM
Improv: Two Sticks
Elephant Talk
Indiscipline
Prism
The Talking Drum
Larks' Tongues in Aspic, Part Two
Walking on Air

concert program
Platwood

May 5, 1998, University of Penn's Museum, Phila, PA
Vetrock '99

May 15, 1999, Willow Grove Naval Air Station Joint Reserve Base

Performers: (based on concert program)

Festival with Britt Small
Jay Black
Wolf
The Gia Pigs
Gypsy
Country Justice
Danny & The Juniors
The Orlons
Billy Carlucci & The Essentials
Jr. Pirollo & The 4J's
The Dovells
The Lovin, Spoonful
WAR
Marshall Tucker Band
America

Beach Boys Family and Friends
Set List:
Darlin'
Don't Worry Baby
Help Me Rhonda
Heroes and Villains
Wouldn't It Be Nice
Sloop John B
Good Vibrations
Girl Don't Tell Me
Encore:
Fun Fun Fun

The Rascals with Felix Cavaliere
The Box Tops with Alex Chilton
Blood Sweat and Tears
The Animals II
Brooklyn Bridge with David Clayton Thomas
Steppenwolf with John Kay

read about this event here:

concert program


autographs

Blue Oyster Cult

Nov 7th 1999, Maddies, Frazer, PA

Set List:

Stairway to the Stars
OD'd on Life Itself
E.T.I. (Extra Terrestrial Intelligence)
Harvest Moon
Buck's Boogie
Take Me Away
Burnin' for You
Harvester of Eyes
Joan Crawford
Cities on Flame With Rock and Roll
The Vigil
Astronomy
Godzilla
(Don't Fear) The Reaper
Encore:
Golden Age of Leather
The Red & the Black
King Crimson (opening act: John Paul Jones)

Dec 11, 2001, Tower Theatre, Upper Darby, PA

Set Lists:

John Paul Jones:

King Crimson:
Dangerous Curves
Into the Frying Pan
EleKtriK
Level Five
Dinosaur
One Time
The ConstruKction of Light
The Power to Believe II: Power Circle
Larks' Tongues in Aspic (Part IV)
The Power to Believe III: Deception of the Thrush
Thela Hun Ginjeet
Jethro Tull

Aug 13 2003, Mann Music Center, Phila, PA

Set List:

Aqua-Intro
Living in the Past
Nothing Is Easy
Some Day the Sun Won't Shine for You
With You There to Help Me
God Rest Ye Merry Gentlemen
Beside Myself
Fat Man
Hunting Girl
Count the Chickens
Dot Com
Eurology
Songs From the Wood
Too Old to Rock 'n' Roll, Too Young to Die
Heavy Horses
Flying Dutchman (Intro)
My God
Budapest
Mayhem Jig
Aqualung
Wind-Up
Locomotive Breath
Protect and Survive
Cheerio
The Musical Box

Feb 27, 2004, Keswick Theater, Glenside, PA

Set List:

Watcher of the Skies
Dancing With the Moonlit Knight
The Cinema Show
I Know What I Like (In Your Wardrobe)
The Musical Box
Firth of Fifth
More Fool Me
The Battle of Epping Forest
Supper's Ready
The Knife
Dream Theater

Apr 2, 2004, Tower Theatre, Upper Darby, PA

Set List:

As I Am
This Dying Soul
The Mirror
Under a Glass Moon
Through My Words
Fatal Tragedy
Goodnight Kiss
Solitary Shell
Endless Sacrifice
Trial of Tears
Echoes (Pink Floyd cover) (Part 1)
The Ones Who Help to Set the Sun
Honor Thy Father
Erotomania
Voices
The Silent Man
Finally Free
Encore:
In the Name of God
WDAS FM Presents World's Greatest Singing Groups

Jul 31, 2004, Mann Center, Phila, PA

Performers:

Alice Cooper

Sep 17, 2004, Borgata Casino, NJ

Set List:

Hello Hooray
No More Mr. Nice Guy
Man of the Year
Billion Dollar Babies
Between High School & Old School
Muscle of Love
Be My Lover
Who Do You Think We Are
What Do You Want From Me?
I'm Eighteen
Desperado
Halo of Flies
Sick Things
Gutter Cat vs. the Jets
Backyard Brawl
Cold Ethyl
Only Women Bleed
Ballad of Dwight Fry
School's Out
Encore:
Poison
Under My Wheels
Elected
Kansas

Nov 14, 2004, Keswick Theater, Glenside, PA

Set List:

Belexes
Paradox
Opus Insert
Miracles Out of Nowhere
Icarus II
Icarus - Borne on Wings of Steel
Magnum Opus
Song for America
Hold On
Bringing It Back
Down the Road
Point of Know Return
Portrait (He Knew)
Dust in the Wind
Carry On Wayward Son

concert program

The Musical Box

Dec 10, 2005, Keswick Theater, Glenside, PA

Set List:

The Lamb Lies Down on Broadway
Fly on a Windshield
Broadway Melody of 1974
Cuckoo Cocoon
In the Cage
The Grand Parade of Lifeless Packaging
Back in N.Y.C.
Hairless Heart
Counting Out Time
The Carpet Crawlers
The Chamber of 32 Doors
Lilywhite Lilith
The Waiting Room
Anyway
Here Comes the Supernatural Anaesthetist
Silent Sorrow in Empty Boats
The Colony of Slippermen
Ravine
The Light Dies Down on Broadway
Riding the Scree
In the Rapids
It
Encore:
Watcher of the Skies

concert program

Blue Oyster Cult (opening act: *Thin Lizzy)
* Thin Lizzy did not perform, replaced by
Cactus
Vanilla Fudge

Aug 17, 2006, date changed to Sep 21, 2001
Keswick Theater, Glenside, PA

Set Lists:

Cactus:

Vanilla Fudge:

Blue Oyster Cult:
The Red & the Black
OD'd on Life Itself
Burnin' for You
E.T.I. (Extra Terrestrial Intelligence)
Shooting Shark
Buck's Boogie
Harvester of Eyes
ME 262
Cities on Flame With Rock and Roll
Then Came the Last Days of May
Godzilla
(Don't Fear) The Reaper
Zappa Plays Zappa
Oct 27, 2006, Borgata Casino, NJ

Set List:

Andy
Call Any Vegetable
Tell Me You Love Me
Who Are the Brain Police?
Can't Afford No Shoes
Pygmy Twylyte
The Idiot Bastard Son
Cheepnis
I'm the Slime
A Pound for a Brown on the Bus
Don't Eat the Yellow Snow
St. Alfonzo's Pancake Breakfast
Father O'Blivion
Inca Roads
I'm So Cute
Tryin' to Grow a Chin
Advance Romance
Punky's Whips
The Black Page #1
The Black Page #2
Peaches en Regalia
Montana
Village of the Sun
Echidna's Arf (Of You)
Zomby Woof
Black Napkins
The Torture Never Stops
More Trouble Every Day
A Token of My Extreme
Regyptian Strut
Trans Siberian Orchestra

Dec 16, 2006, Wachovia Center, Phila, PA

Set List:

First Set:
March of the Kings
Christmas Eve and Other Stories
An Angel Returned
O Come All Ye Faithful / O Holy Night
The Prince of Peace
First Snow
A Mad Russian's Christmas
Christmas Eve (Sarajevo 12/24)
Good King Joy
Ornament
Old City Bar
Promises to Keep
This Christmas Day
An Angel Returned
Epilogue

Second Set:
Christmas Nights in Blue
Layla (Derek and the Dominos cover)
A Last Illusion
An Angel's Share
Mozart/Figaro
Wizards in Winter
Christmas Canon Rock
Queen of the Winter Night
Carmina Burana
Beethoven
Requiem (The Fifth)
Roundabout (Yes cover) (with Jon Anderson)
Christmas Eve (Sarajevo 12/24) (Reprise)
Pocono Blues
Jul 27,28,29, 2007, Big Boulder, Poconos, PA

Set List:




concert program
Yes (opening act: Asia)
Jul 28, 2009, Tower Theatre, Upper Darby, PA

Set Lists:

Asia:
Wildest Dreams
Only Time Will Tell
An Extraordinary Life
Video Killed the Radio Star (Buggles cover)
The Court of the Crimson King (King Crimson cover)
The Smile Has Left Your Eyes
Don't Cry
Fanfare for the Common Man
Sole Survivor
Heat of the Moment

Yes:
The Firebird Suite
Siberian Khatru
I've Seen All Good People
Tempus Fugit
Astral Traveller
And You and I
Clap
Owner of a Lonely Heart
Machine Messiah
Roundabout
Heart of the Sunrise
Encore:
Starship Trooper
The Musical Box

Jan 29, 2010, Keswick Theater, Glenside, PA

Set List:

Dance on a Volcano
The Lamb Lies Down on Broadway
Fly on a Windshield
The Carpet Crawlers
The Cinema Show
Robbery, Assault and Battery
White Mountain
Firth of Fifth
Entangled
Squonk
Supper's Ready
I Know What I Like (In Your Wardrobe)
Los Endos
Encore:
It
Watcher of the Skies

concert program

Philadelphia Orchestra

Jun 15, 2010, Mann Center, Phila, PA
Procol Harum (opening act: Renaissance)

Jun 16 , 2010, Longwood Gardens, Kennett Square, PA

Set Lists:

Renaissance:
Prologue
Carpet of the Sun
Things I Don't Understand
The Mystic and the Muse
Running Hard
Encore:
Mother Russia

Procol Harum:
Cerdes (Outside the Gates Of)
Broken Barricades
Homburg
One Eye on the Future
The Devil Came From Kansas
As Strong as Samson
Grand Hotel
Wall Street Blues
The Blink of an Eye
Robert's Box
Strangers in Space (with "Get Up (I Feel Like… more )
Sister Mary
A Salty Dog
Conquistador
Encore:
Whisky Train
A Whiter Shade of Pale

autographed EP Mystic


Annie Haslam painting
Three Friends (opening act: Mahavishnu)

Jun 20, 2010, Keswick Theater, Glenside, PA

Set Lists:

Mahavishnu:

Three Friends (Gentle Giant):
Prologue
Three Friends
Playing the Game
The Advent of Panurge
Empty City
Just the Same
Pantagruel's Nativity
I Lost My Head
Proclamation/Valedictory
The Boys in the Band
His Last Voyage
In a Glass House
Schooldays
Mister Class and Quality?
Free Hand
Encore:
Giant
Philadelphia Orchestra

Mar 19, 2011, Verizon Hall at the Kimmel Center, Phila, PA
Return to Forever (opening act: Zappa Plays Zappa)
Aug 10, 2011, Mann Center, Phila, PA

Set Lists:

Zappa Plays Zappa:
Cheepnis
Fifty-Fifty
Peaches en Regalia
Po-Jama People
Don't You Ever Wash That Thing?
What's the Ugliest Part of Your Body?
Dancin' Fool
Zomby Woof
Big Swifty
Don't Eat the Yellow Snow
Nanook Rubs It
St. Alfonzo's Pancake Breakfast
Apostrophe

Return to Forever:
Medieval Overture
Señor Mouse
Sorceress
The Shadow of Lo
Dayride
After the Cosmic Rain
Concierto de Aranjuez
Spain
Encore:
School Days
Steven Wilson

Nov 12, 2011, Temple Performing Arts Center, Phila, PA

Set List:

No Twilight Within the Courts of the Sun
Index
Deform to Form a Star
Sectarian
Postcard
Remainder the Black Dog
Harmony Korine
Abandoner
Like Dust I Have Cleared From My Eye
No Part of Me
Veneno Para Las Hadas
Raider II
Encore:
Get All You Deserve
Steven Wilson

Apr 19, 2013, Keswick Theater, Glenside, PA

Set List:

Luminol
Drive Home
The Pin Drop
Postcard
The Holy Drinker
Deform to Form a Star
Watchmaker Intro Video
The Watchmaker
Index
Insurgentes
Harmony Korine
No Part of Me
Raider II
The Raven That Refused to Sing
Encore:
Radioactive Toy
Ljudet Innan (Storm Corrosion song)

concert program

Ian Anderson (Thick As A Brick 1 & 2 tour)

Jul 17, 2013, Kimmel Center, Phila, PA

Set List:

Set 1 (Thick as a Brick)
Intro
Thick as a Brick, Part 1
Thick as a Brick, Part 2

Intermission

Set 2 (Thick as a Brick 2):
From a Pebble Thrown
Pebbles Instrumental
Might-Have-Beens
Upper Sixth Loan Shark
Banker Bets, Banker Wins
Swing It Far
Adrift and Dumbfounded
Old School Song
Wootton Bassett Town
Power and Spirit
Give Till It Hurts
Cosy Corner
Shunt and Shuffle
A Change of Horses
Confessional
Kismet in Suburbia
What-ifs, Maybes and Might-Have-Beens
Encore:
Locomotive Breath
Yestival
Aug 3, 2013, Susquehanna Bank Center, Camden, NJ

Set Lists:

Scale the Summit:

Volto!:
BHP
No Quarter (Led Zeppelin cover)
Tocino

Carl Palmer Band:
Karn Evil 9: 1st Impression, Part 2
Hoedown
Knife-Edge
Pictures at an Exhibition
Nutrocker
Encore:
Fanfare for the Common Man

The Musical Box:
Watcher of the Skies
The Musical Box
Get 'em Out by Friday
Supper's Ready
The Return of the Giant Hogweed

Renaissance:
Carpet of the Sun
Things I Don't Understand
Ocean Gypsy
Running Hard
Grandine Il Vento
The Mystic and the Muse
Mother Russia

Yes:
The Firebird Suite
from Close to the Edge:
Close to the Edge
And You and I
Siberian Khatru
from Going For The One:
Going for the One
Turn of the Century
Parallels
Wonderous Stories
Awaken
from The Yes Album:
Yours Is No Disgrace
Clap
Starship Trooper
I've Seen All Good People
A Venture
Perpetual Change
Encore:
Roundabout
The Musical Box

Nov 22, 2013, Keswick Theater, Glenside, PA

Set List:

Watcher of the Skies
Dancing With the Moonlit Knight
The Cinema Show
I Know What I Like (In Your Wardrobe)
Firth of Fifth
The Musical Box
Horizons
The Battle of Epping Forest
Supper's Ready
Encore:
The Knife

concert program

Yes
Apr 4, 2014, Borgata Casino, NJ

Set List:

from Close to the Edge:
And You and I
Siberian Khatru
from Going For The One:
Going for the One
Turn of the Century
Parallels
Wonderous Stories
Awaken
from The Yes Album:
Yours Is No Disgrace
Clap
Starship Trooper
I've Seen All Good People
A Venture
Perpetual Change
Encore:
Roundabout
Procol Harum (opening act: Carl Palmer Band)

Jul 17, 2014, Sun Center, Aston, PA

Set Lists:

Carl Palmer:
Walkürenritt (Ride of the Valkyries)
Karn Evil 9: 1st Impression, Part 2
Toccata and Fugue in D minor, BWV 565
Knife-Edge
Jerusalem
Mars, the Bringer of War
21st Century Schizoid Man
Clair de Lune
Trilogy
Bohemian Rhapsody (Queen cover) (bass solo)
America (Nice cover)
Blue Rondo à la Turk
Tarkus
Fanfare for the Common Man
Carl Palmer Drum Solo
Encore:
Hoedown

Procol Harum:
Kaleidoscope
Shine On Brightly
An Old English Dream
Homburg
Bringing Home the Bacon
Whaling Stories
Nothing but the Truth
A Salty Dog
Whisky Train
Simple Sister
A Whiter Shade of Pale
Encore:
Grand Hotel
Pandora's Box
Conquistador

Carl Palmer signed drum head

King Crimson

Sep 13, 2014, Verizon Hall, Kimmel Center, Phila, PA

Set List:

Larks' Tongues in Aspic, Part One
Level Five
A Scarcity of Miracles (Jakszyk, Fripp and Collins cover)
Banshee Legs Bell Hassle
Pictures of a City
One More Red Nightmare
Interlude
The Letters
Sailor's Tale
Hell Hounds of Krim
VROOOM
Coda: Marine 475
The Light of Day (Jakszyk, Fripp and Collins cover)
The Talking Drum
Larks' Tongues in Aspic, Part Two
Red
Starless
Encore:
Hoodoo
21st Century Schizoid Man

playbill insert
Steven Wilson

May 25, 2015, Keswick Theater, Glenside, PA

Set List:

First Regret
3 Years Older
Hand Cannot Erase
Perfect Life
Routine
Index
Home Invasion
Regret #9
Lazarus
Harmony Korine
Ancestral
Happy Returns
Ascendant Here On...
Encore:
Temporal (Bass Communion song)
The Watchmaker
Sleep Together
Encore 2:
The Raven That Refused to Sing

concert program
Kansas

Oct 1, 2016, Merriam Theater, Phila, PA

Set List:

Acoustic:
The Coming Dawn (Thanatopsis)
Hold On
Chasing Shadows
Reason to Be
Refugee

Electric:
Icarus II
Icarus - Borne on Wings of Steel
Journey From Mariabronn
Lamplight Symphony
Dust in the Wind
With This Heart
Rhythm in the Spirit
The Unsung Heroes
The Voyage of Eight Eighteen
Section 60
Leftoverture
Carry On Wayward Son
The Wall
What's on My Mind
Miracles Out of Nowhere
Opus Insert
Questions of My Childhood
Cheyenne Anthem
Magnum Opus
Encore:
Portrait (He Knew)
King Crimson

Nov 3, 2017, Merriam Theater, Kimmel Center, Phila, PA

Set List:

Set 1:
Hell Hounds of Krim
Neurotica
Cirkus
Lizard ("(c) The Battle of Glass… more )
Moonchild ('The Dream' part only;… more )
The Court of the Crimson King
Radical Action (To Unseat the Hold of Monkey Mind)
Meltdown
Radical Action II
Level Five

Set 2:
Devil Dogs of Tessellation Row
The ConstruKction of Light (part 1 only)
Fallen Angel
The Letters
Epitaph
Indiscipline
Starless
21st Century Schizoid Man

Encore:
Easy Money
Heroes
Encore 2:
Larks' Tongues in Aspic, Part Two

playbill insert



Snarky Puppy

Jun 29, 2018, Fillmore, Phila, PA

Set List:

Beep Box
GØ
Flood
Palermo
White Cap
Tio Macaco
Big Ugly
Steven Wilson

Apr 25, 2018, Keswick Theater, Glenside, PA

Set List:

Set 1:
Nowhere Now
Pariah
Home Invasion
Regret #9
The Creator Has a Mastertape
Refuge
People Who Eat Darkness
Ancestral
Set 2:
Arriving Somewhere but Not Here
Permanating
Song of I
Lazarus
Detonation
The Same Asylum as Before
Heartattack in a Layby
Vermillioncore
Sleep Together
Encore:
The Sound of Muzak
Song of Unborn

concert program

Philadelphia Orchestra - A Night Of Gershwin

July 27 , 2018, Mann Music Center
The Musical Box

Mar 23, 2019, Keswick Theater, Glenside, PA

Set List:

Act 1: The Wind's Tail & Act 2: Broadway Melodies
Unquiet Slumbers for the Sleepers...
...In That Quiet Earth
Robbery Assault and Battery / Wot Gorilla
Blood on the Rooftops
Dance on a Volcano
Entangled
Los Endos
Fly on a Windshield
Broadway Melody of 1974
In the Cage
Back in N.Y.C.
Hairless Heart
Counting Out Time
The Carpet Crawlers
Lilywhite Lilith
The Waiting Room
Act 3: Before the Ordeal
A Place to Call My Own
Time Table
Seven Stones
Can-Utility and the Coastliners
Looking for Someone
Firth of Fifth
After the Ordeal
The Cinema Show
Aisle of Plenty
Encore:
The Musical Box
Nick Mason's Saucer Full of Secrets

Apr 20, 2019, The Met, Phila, PA

Set List:

Interstellar Overdrive
Astronomy Domine
Lucifer Sam
Fearless
Obscured by Clouds
When You're In
Remember a Day
Arnold Layne
Vegetable Man
If
Atom Heart Mother (Followed by 'If' reprise)
The Nile Song
Green Is the Colour
Let There Be More Light
Childhood's End
Set the Controls for the Heart of the Sun
See Emily Play
Bike
One of These Days
Encore:
A Saucerful of Secrets
Point Me at the Sky
The Who

May 25, 2019, Citizen's Bank Park, Phila, PA

Set List:

Overture
It's a Boy
1921
Amazing Journey
Sparks
Pinball Wizard
We're Not Gonna Take It
Who Are You
Eminence Front
Imagine a Man
Join Together
Substitute
I Can See for Miles
Behind Blue Eyes (with violin and cello)
Won't Get Fooled Again (acoustic; Roger & Pete only)
Tea & Theatre (Roger & Pete only)
The Real Me
I'm One
The Punk and the Godfather
5:15
Drowned
The Rock
Love, Reign O'er Me
Baba O'Riley










Dweezil Zappa

Mar 8, 2020, Keswick Theater, Glenside, PA

Set List:

Don't Eat the Yellow Snow

(set: Hot Rats album Live)
Peaches en Regalia
Willie the Pimp
Son of Mr. Green Genes
Little Umbrellas
The Gumbo Variations
It Must Be a Camel

(set: other hot stuff!)
Penguin in Bondage
Penis Dimension
200 Motels / Bogus Pomp
Who Are the Brain Police?
We Are Not Alone
Brown Moses
Heavenly Bank Account
Zomby Woof
I Have Been in You
Broken Hearts Are for Assholes
Big Swifty
Find Her Finer
Lucille Has Messed My Mind Up
I'm the Slime

Encore:
Black Napkins
Montana
Sofa
Echolyn
?, ?

Set List:

Still searching for info on this concert. Echolyn opened up for another band, but I can't remember who. www.setlist.fm has no info for a concert we attended. We did buy the CD at the concert, and received the flyer below.




concert promo
concert shirts