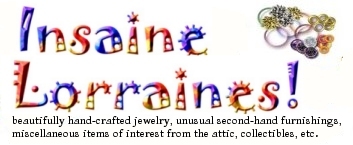 Insaine Lorraine's™ offers quality hand-crafted jewelry at a resonable price.
All pieces are custom made, and can only be found here.
*** jewelry containing semi-precious stones will have variations in color, shape and size due to their uniqueness
they will be one of a kind ***
The prices shown are complete - no added shipping, packaging, or taxes.
My goal is 100% satisfaction for each customer.
If you have any questions, please use the 'contact us' link for information.