desktop to toolbar
---
Clean up that cluttered desktop by putting all your desktop icons into a custom toolbar. The icons in this toolbar will then be accessable just like your START menu! Here are 4 easy steps to accomplish this:
Step1:Right-click your taskbar and select from the popup menu Toobars/New Toolbar.

Step 2:Use the resulting dialog box to point to your existing desktop folder. In Windows 98 this folder is found at C:\WINDOWS\CYBERSYN\Desktop. After selecting the folder, click OK.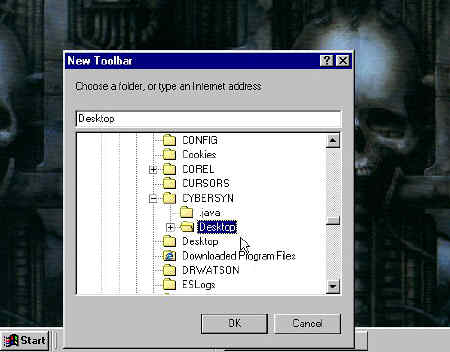 Step 3: Right-click an open area of your present desktop and select Properties. Then select the EFFECTS tab. Check the box labeled "hide icons when the desktop is viewed as a web page." Then click OK.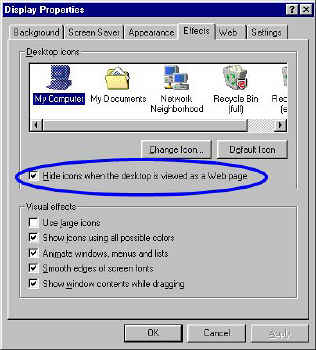 Step 4: View your new toolbar. On your taskbar there should be a new item called Desktop. Click the arrows to see the icons that are normally on your desktop. Select them as you would if they were on your desktop. The increased value is that you also will have submenus on this toolbar, which would be the same as doubleclicking a desktop icon, except that you no longer have to click them to access them!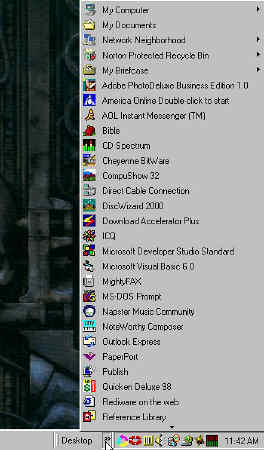 IF: Your desktop icons do not "hide", you will need to change the settings to view your desktop as a web page. To do this, follow the instructions in step 3, but select the web tab instead. Check the box "view my active desktop as a web page" and then click OK.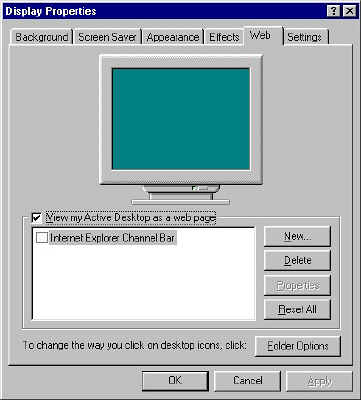 You should now have a desktop to be proud of! Use the BACKGROUND tab in the above box to select a picture that resides on your computer to use as your new wallpaper.
---
Questions or comments can be sent to: Rediware
Thanks for visiting!