The TI994/A computer page
this page last modified 06/21/2003
---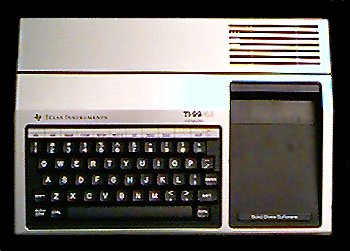 Links to TI items for sale/viewing - click here!
Bullwinkle's Corrner BBS nostalgia

This page is dedicated to the first computer I ever owned. I received a TI 99/4A computer for Christmas from my in-laws back in 1983. I wanted one because I was curious as to "what can one do with a computer?" I have been working with computers and writing programs ever since that monumental date. For those of you who have owned one of these hobbyist's treasures, here's hoping that this page will provide a bit of nostalgia.
---
Some screen shots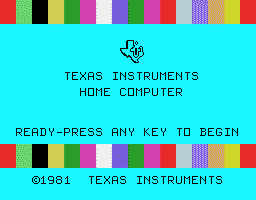 ---
Pictures of TI books, software, hardware, cartridges, etc.
for viewing or sale
(not all pages are complete yet)
Click on the catagory below to display pages of pictures. If a picture on a page is in the GONE section, then the item is no longer available for sale. If it is in the AVAILABLE section, then that item is for sale. If you are interested in purchasing any item in the AVAILABLE section, use the e-mail link at the bottom of this page to make an offer for that item or items. Be sure to specify the item name, and the amount offered. Packaging and postage will be added to your cost and will vary depending on the item. You will receive a return e-mail either accepting your offer, or a counter offer. Upon agreement of any sale, total payment must be received before items are shipped. Any questions, problems, queries etc can be sent to the e-mail address below.
Questions or comments can be sent to: Rediware
Thanks for visiting!